Wellness apps have surged in popularity since the pandemic, promising us a dose of "self-care" whenever we need it. From soothing meditation sessions to gratitude journaling and mood checkers, these apps offer a range of features.
But hey, we're all busy bees, right? So, before we commit our time and energy, we need to know if these tools are the real deal. Plus, how much difference can five minutes a day make?
To uncover the answers, our research team tested Intellect's effectiveness on working adults in Singapore and Hong Kong and released the results in our fourth peer-reviewed paper. And no, peer-reviewed papers aren't ordinary surveys or unimportant fluff, but research methodologies that can withstand the scrutiny of experts reviewing for accuracy, methodology and overall validity.

In other words, they give our clients peace of mind, knowing that their employees are utilising the most scientifically-validated solution in the region. But before we delve into the study, let's refresh your memory of Intellect's features.
What Intellect offers
Intellect is one of the few mental health platforms that offer a full suite of evidence-based interventions. With a foundation in Cognitive Behavioral Therapy (CBT), these features are designed to help users recognise and modify unhealthy thought and behaviour patterns:
| | |
| --- | --- |
| Access to mental health professionals | 30-45 minute video or in-person sessions with coaches, counsellors, and psychotherapists. |
| Learning paths | Bite-sized psychoeducation to gain insights into one's mental health. |
| Rescue sessions | Interventions for adversities like "Procrastination," "Sleep," and "Burnout." |
| Guided journals | Writing prompts on themes like "Reflection", "Problem-solving," and "Goal-setting." |
| Daily exercises | A curated list of activities to amp up one's physical and mental wellbeing. |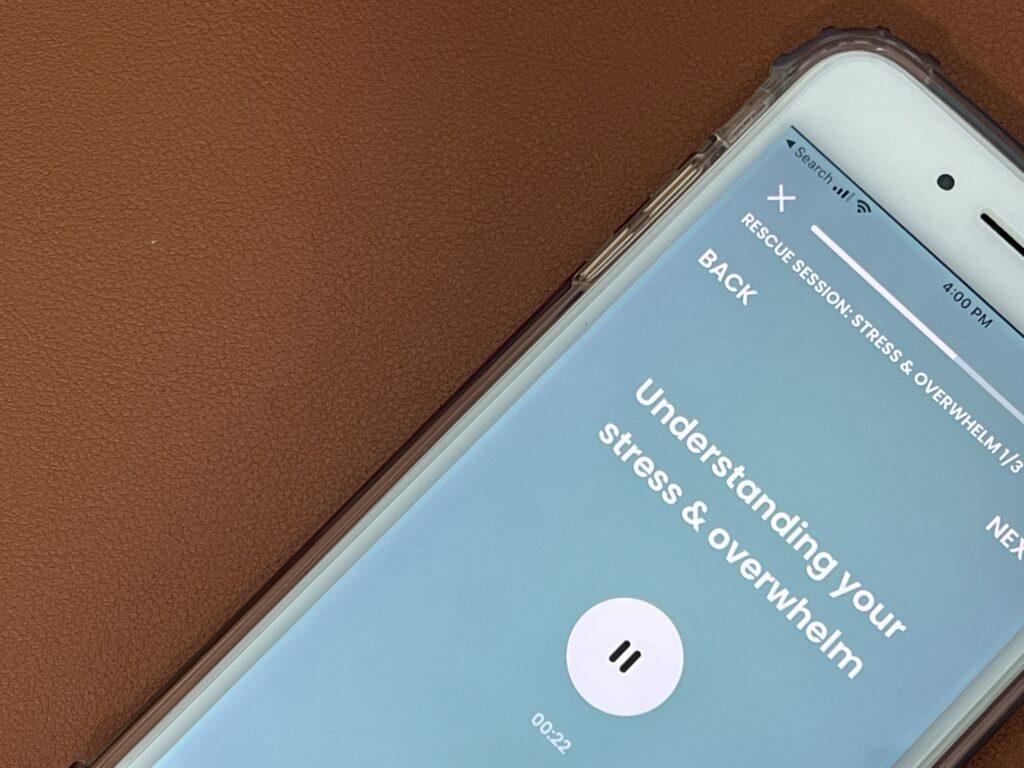 Students saw results in two weeks
Across three research studies conducted on 883 students of the National University of Singapore, Intellect's learning paths have resulted in significant improvements in the following areas:
Stress levels
Anxiety
Depressive symptoms
Self-compassion
The participants were benchmarked against a control group who did not utilise Intellect over the same timeframe. And guess what? By dedicating five minutes a day for two weeks, the positive results they experienced persisted for up to a month. Talk about making a morning commute count!

Notably, among the 160 students who completed the "Anxiety and Worry" programme, 44.8% of these students experienced a significant reduction in their anxiety levels, with the average user seeing a 37.4% reduction in two weeks. 61.5% of these students experienced a significant reduction in their depressive symptoms, with the average user seeing a 40% reduction in depressive symptoms in two weeks.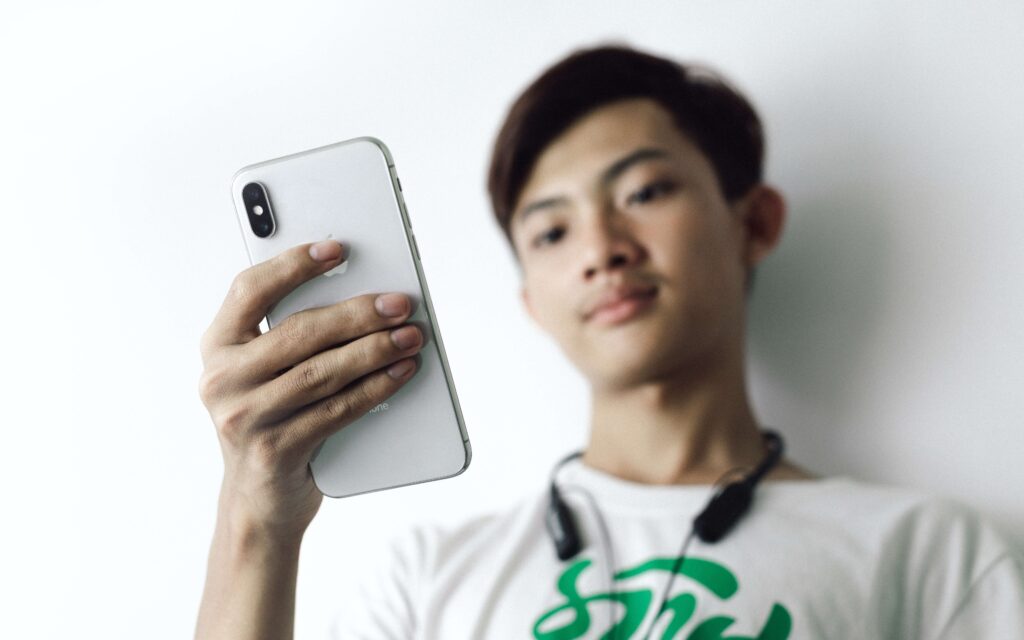 Working adults saw results in 24 hours
You may be thinking: As a working adult, I have a family to take care of and my professional responsibilities are far greater than those of a student. Will I reap the same benefits?
Our research team had the same thoughts, which is why we recruited 515 working adults in Singapore and Hong Kong for our fourth research study. The participants were predominantly female (62.5%), based in Singapore (88.7%), with an average age of 32 years old.
Here's what they had to do:
Engage with any self-care features within Intellect, along with free access to two online counselling sessions on the platform.
Complete daily self-reports on resilience, including sleep hours and quality, stress levels, physical activity (steps taken per day), and emotional well-being over the course of the month.
The end goal? To determine Intellect's effect on the psychological resilience of employees.
What is psychological resilience?
In occupational health research, psychological resilience is defined as the ongoing process of responding adaptively to daily or weekly work challenges. In other words, it's about how quickly and effectively we "bounce back" when we fall short of our employer's expectations, navigate miscommunication, or find ourselves engulfed in the chaos of a restructuring exercise.

Interestingly, resilience is not solely a psychological construct; it also finds its roots in our biological makeup. Recognising this interconnectedness, our team devised a composite Resilience Score that takes into account the participants' daily stress levels, sleep health, as well as physical activity patterns.
How next-day improvements affect turnover
Research has indeed indicated that web-based interventions can enhance resilience over time, but we must acknowledge the potential influence of recall biases on these findings. It's reasonable to assume that the observed improvement could be attributed to the natural progression of the user's circumstances. To ensure a more rigorous study, we investigated Intellect's effectiveness within a much shorter time frame: 24 hours.
This matters because the ability to facilitate in-the-moment improvements in resilience and affective states holds great significance for organisational outcomes like employee retention. A 2021 study found that employees who are more resilient experience less variance in their affective commitment trajectories. In simple terms, this means they are more emotionally connected to the organisation and more likely to stay.
What difference did Intellect make?
Can engaging with Intellect on a daily basis lead to improved wellbeing the following day?
The answer is a resounding yes. Engagement with the Intellect app for once a week has been found to significantly predict greater psychological resilience the following day. In just five weeks, participants saw a 5.4% increase in their Resilience Scores.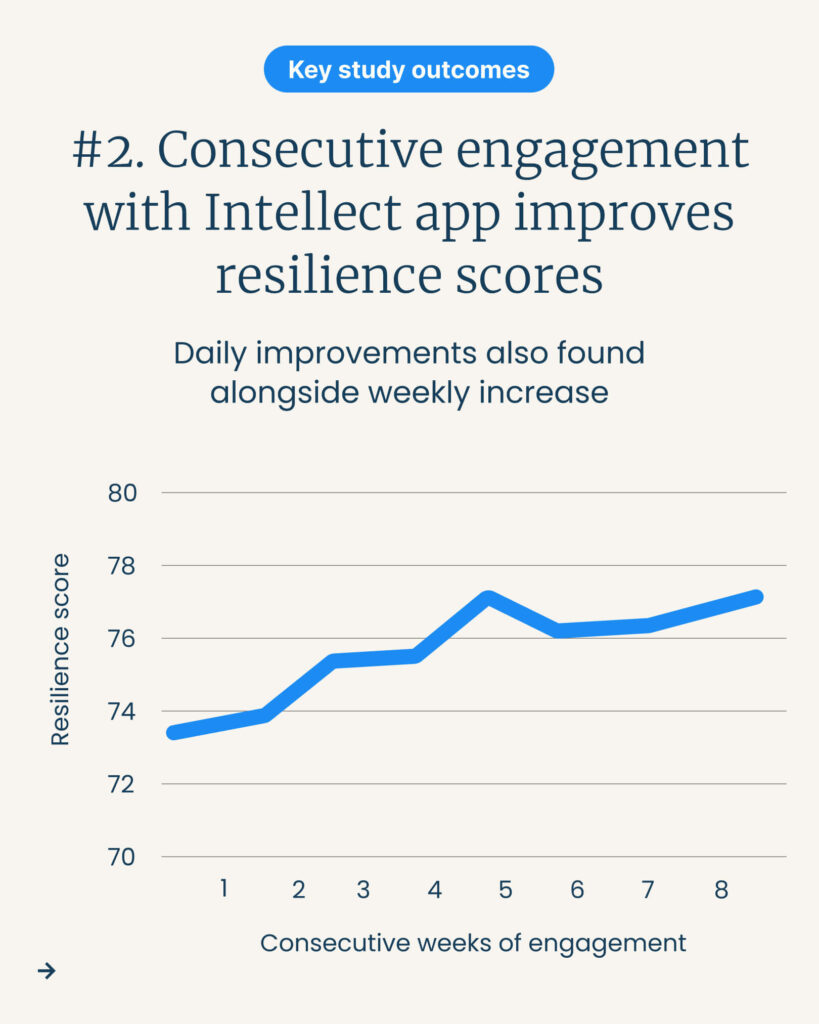 By the ninth week of usage, they experienced a significant reduction in stress levels of approximately 10%. Their levels of physical activity went up too, with the average user walking more than an hour per day.

Closer to home, active users in Singapore who engaged with the app for 14 consecutive days saw similar results nearly five times as quickly. We also observed great improvements in other aspects of wellbeing like sleep health, which encompasses both hours and quality.
7.3% improvement in resilience
5.0% improvement in sleep hours
5.2% improvement in sleep quality
9.0% improvement in steps count
10.1% improvement in stress levels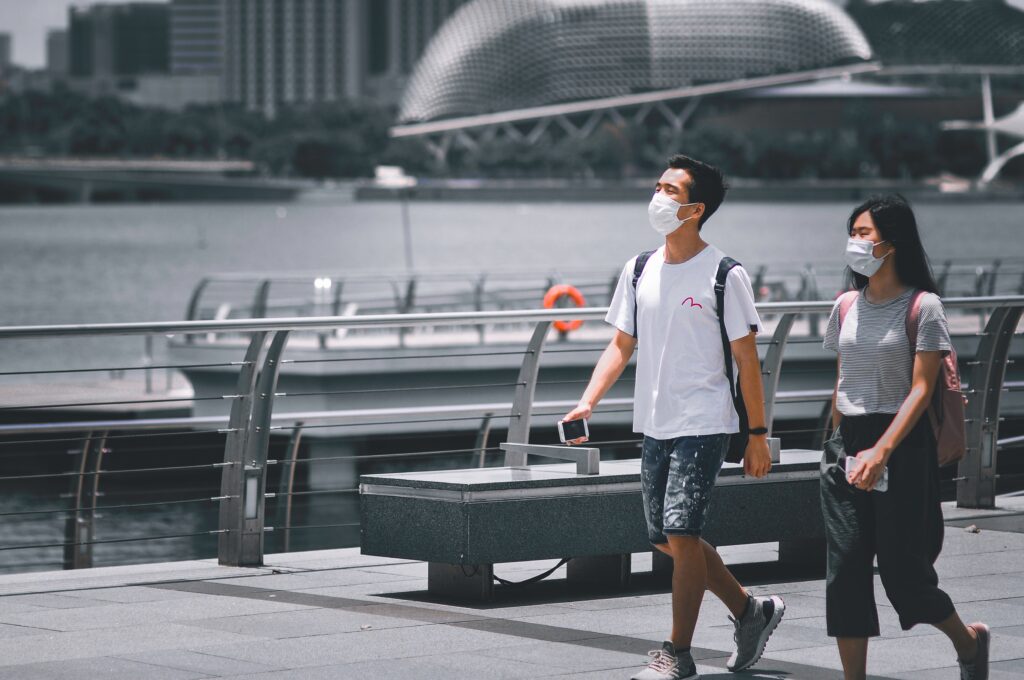 What this means for organisations
The impact of psychological resilience on employee well-being is undeniable, and its close relationship with work-related outcomes such as job satisfaction, performance, and job search behaviours is widely acknowledged.

While this is no news to organisations who they invest in Employee Assistance Programs (EAPs), it is disheartening to note that they are limited in effectiveness and suffer from low utilisation rates. Despite the awareness of EAPs being high among employees in Asia (over 80%), less than 1% proactively seek assistance from them.
On the other hand, mobile health interventions offer a preventative, low-intensity, and cost-effective approach to promoting employee wellbeing. They are also easily accessible to employees, addressing minor stressors before they escalate into more severe mental health problems.
The results of this study not only validate the importance of preventive care but also highlight Intellect as an evidence-based tool of choice for organisations seeking to improve their resilience and overall wellbeing.

Learn more about adopting Intellect for your workforce here.