Mental health awareness is on the rise, but it isn't quite translating into action in Singapore. Fear of high consultation costs and uncertainty about where to find suitable medical services were among the top barriers cited. Plus, a quarter of respondents believe they should not rely on others for their mental health. Rather than seeking out a professional, they believe that mental health struggles should be handled independently. 
Perhaps it's the need to save "face" in our Asian culture; to conceal our vulnerability lest our social standing gets compromised. This is why we designed a self-care app that puts the ball in your court. From self-assessment tools to self-guided exercises, Intellect's clinically-validated interventions enable users to navigate their wellbeing journeys autonomously. Plus, our panel of professionals are always at the ready should you need a hand along the way.
Self-assessment 
What can be measured can be improved, but mental health can be tricky to quantify. How do you set wellbeing goals with no existing baseline and ongoing feedback? To this end, Intellect has developed several features to help you stay self-aware.
Goal-setting
Upon launching the app, you can select goals that shape your experience on Intellect. Identifying objectives you want to achieve helps you to act accordingly, track progress, and stay motivated on days when you feel "out of it" – and boy will there be many days like that.
If you are more reserved than you would like to be at work, you may want to learn to "have good social skills". If you're spending hours on end on social media, you can focus on "bad habits". Wherever you are on the mental health spectrum, and whether you're looking to improve your personal or professional life, our goals understand the assignment.
Tracking
We collect data on almost everything these days – hours spent on social media, places we have visited, and the number of steps we've clocked in. Why not track our emotions, too? Doing so helps you keep tabs on patterns, identify triggers of negative emotions, and regulate them as they arise. 
Intellect encourages you to self-report emotions with words and emojis, not unlike how you'd text a friend about how you're doing. In fact, the very act of naming an emotion has been found to be an implicit form of emotional regulation.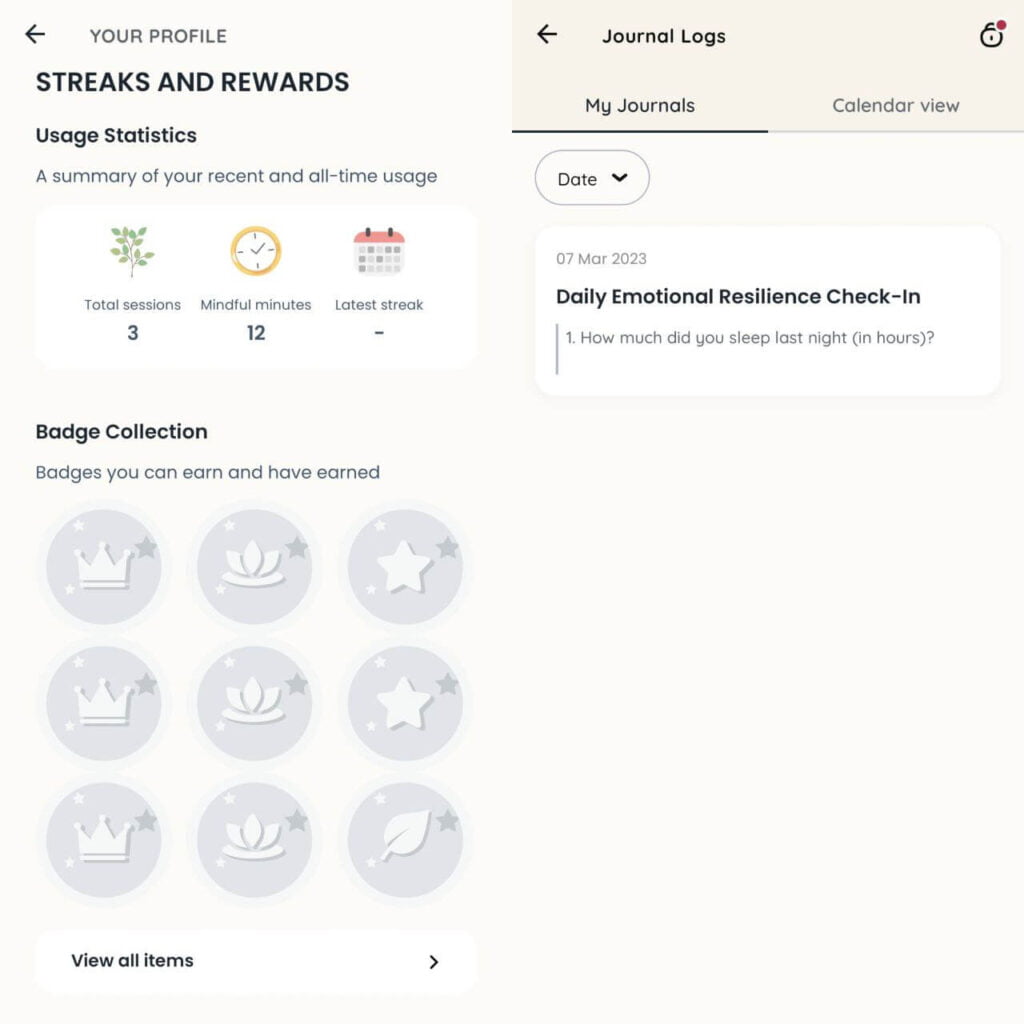 Journalling, yet another means of putting feelings into words, has similar benefits. For a more "qualitative" way of tracking your emotions, Intellect also stores your journal entries (with our Zero Knowledge Encryption technology, of course), because it's always nice to look back at how far you have come. 
And by gamifying these good habits and documenting your progress meticulously, the app creates a virtuous cycle that incentivises you to stay on track.
Personal Insights
Like the social media platforms, you may be familiar with, the app becomes more personalised when you use it frequently. This positive feedback loop is most evident in the Personal Insights feature (organisations know this as Intellect Dimensions), which sizes up your strengths and opportunities through a questionnaire. Based on your results, the app recommends self-guided interventions to nurture you in just these areas. This brings us to the next point.
Self-guided exercises
On Intellect, you decide where you want to go and our clinically-validated programs will tell you how to get there. In other words, we're something of a GPS while you remain in the driver's seat. That is the essence of our self-guided interventions.
Guided journals
We know journaling is beneficial to our wellbeing, but not all of us know how to start. That's where Intellect's guided journals come in handy. They come in six themes: gratitude, reflection, problem-solving, goal-setting, sleep, and self-affirmation. Each one comes with corresponding prompts that elicit thoughts and feelings surrounding the given topic.
You can open up about anything without the fear of judgement, especially since the guided journals are a literal safe space. They are 100% encrypted and out of bounds to others – even the engineers at Intellect – and you'll need an encryption key to transfer journal logs across devices or when reinstalling Intellect.
Rescue sessions
Strong emotions, like fear, anxiety, and grief, can be hard to process at the moment. When you feel overwhelmed, chances are, you wouldn't have the presence of mind to read a self-help book or watch a 20-minute video on emotional regulation. That's why we created Rescue Sessions, a series of three- to five-minute guides you can play on demand.
Our Rescue Sessions are multi-sensory by design, engaging you through audio recordings and on-screen text so you would not be entirely consumed by the unpleasant experience at hand. The content encourages you to express your emotions and recommends ways to move forward.
In this Rescue Session on Regaining Motivation, we are alerted to harsh self-talk that is often counter-effective in motivating us (e.g. "stop being so lazy"). In its place, we may reflect on what's draining our energy, how to inspire ourselves, and the rewards of meeting our goals. 
Short courses
The good habits we practise on vacation – like taking a break from work emails and staying in the present – can go out of the window when our daily grind resumes. But the short courses on Intellect, segmented by the time of day, make it easier to stay consistent. 
You can use the Morning Journal to set your intentions for the day, use the Five Senses Grounding Technique during a stressful event, and Unplug and Unwind with a minute-long meditation before bed.
Learning paths
While the Rescue Sessions tend to be more short-term and reactive, Learning Paths are a more long-term and preemptive take on developing strengths. They range from professional skills such as Developing Collaborative Skills and Letting Go of Perfectionism, to personal ones like Healing From a Breakup and Managing Baby Blues and Postpartum Depression. 
The Learning Path on Managing Anxiety and Worry, for starters, reduced anxiety levels by up to 45% for users in Singapore who spent five minutes on the app every day for two weeks. Here's a glimpse of what it entails.
Access to professionals
Of course, self-care is just one pillar of our wellbeing journey. If you need more support, Intellect's panel comprises behavioural health coaches, counsellors, psychotherapists, clinical psychologists, and psychiatrists. Learn more about what each role offers here.
The app generates your best matches based on your preferences (i.e. areas you would like to work on) and location, providing an overview of the professionals' approaches, specialities, and availability. We know compatibility is key, so the days of walking into a clinic not knowing who's on the other side of the door are well and truly over.
Traditionally, coaches, counsellors, and therapists don't text their clients. But as our communication preferences have evolved over the pandemic, Intellect offers two mediums: video call and chat messaging within the app for a seamless experience. The latter is available synchronously, so users can get the help they need if their next session is too far away.
Beyond the one-size-fits-all approach to mental health 
Rather than pigeonholing users into a single self-care methodology, Intellect's platform is holistic by design. Whether through breathwork, journalling, psychoeducation, or a familiar face and soothing voice on the other end of the line, our ecosystem recognises that every user is unique. 
Learn more about adopting Intellect for your workforce here.