With 10 October being World Mental Health Day and the year fast approaching its end, Intellect launched our annual Mental Health Festival Asia 2022 on 29 and 30 September. As workplaces gradually reopen, reconfigure, and reprioritise, this year's instalment was aptly themed Pushing Boundaries For Mental Wellness In Asia.
Attended by over 1,000 individuals, the 2-day event thrust professional wellbeing under the spotlight in the first half. Speakers including Minister Sun Xue Ling and HR experts from Google and Microsoft weighed in on the future of workplace mental health and shared best practices that could help the region move the needle.
Missed it? We've summarised our key takeaways from Mental Health Festival Asia 2022 below. Alternatively, you can catch up on our sessions here.
1. Mental health isn't black or white—it's a spectrum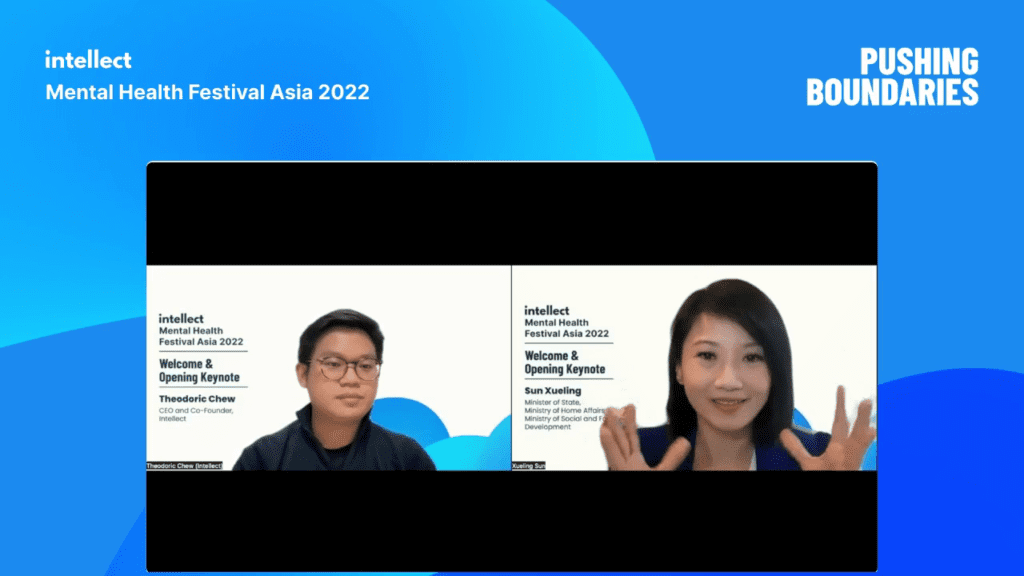 In her keynote address, Singapore's Minister of State Sun Xue Ling addressed the elephant in the room: having mental health awareness coexist with workplace cultures and managerial strategies that are unmistakably Asian. She poses the question, "How do you trust and inspire your employees, rather than command and control?"
Recognising that mental health and its related issues exist on a spectrum is a good start. It encompasses but is not limited to mental wellness, mental health, mental illness, and mental disease. "If a person is not feeling mentally well, it doesn't necessarily mean that you're mentally ill and that you have to go to the Institute of Mental Health," Minister Sun said, adding that this awareness can help quell feelings of stress and anxiety that one is "mentally ill". Ensuring that support is available through the stages has to be a joint effort between the government and stakeholders such as employers and providers. This brings us to our next point.
2. You can make a difference from where you sit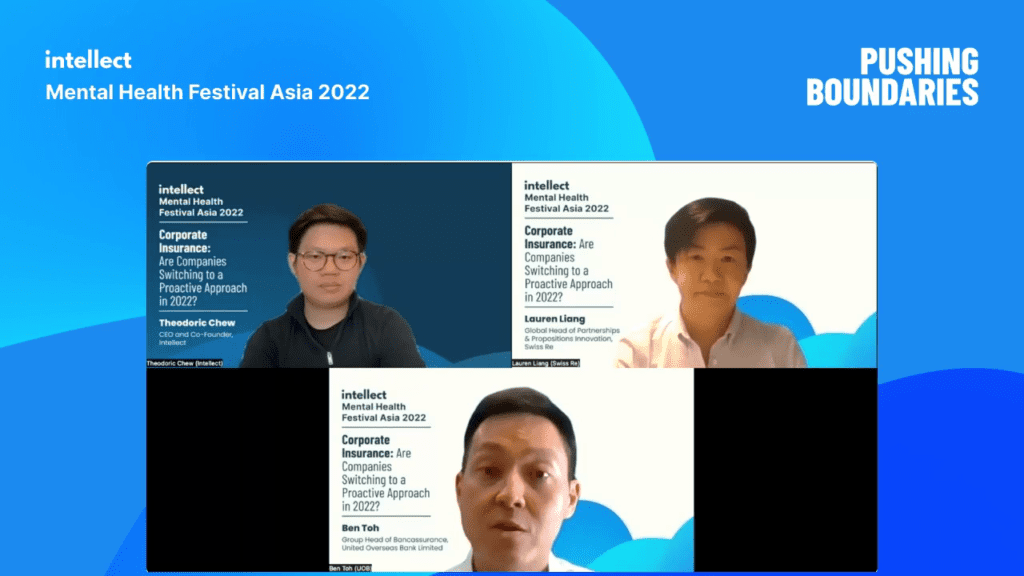 Did you know that even though 84% of consumers across Asia are open to private mental health insurance, only 1% of insurers in the region see it as a key priority?
In a panel with Lauren Liang, Swiss Re's Global Head of Partnerships and Prepositions Innovation; and Ben Toh, the Group Head of Bancassurance, United Overseas Bank Limited, the former opined that "policymakers are just not ready yet." The endeavour of bridging the gap has to be "market-led". Consumers have to voice their concerns, corporations have to take notes, and insurers and reinsurers have to work alongside providers to address these needs. In other words, other stakeholders in the ecosystem can take things into their own hands.
"In the meantime, I would encourage those in the audience who have the ability to make that difference from where you sit in your organisation and say: Look, we're going to have to address this from a grassroots level."
3. Workplace wellbeing does not end at onboarding
Truth is, even within an organisation, perceptions of workplace mental health can differ across stakeholders. A panel with Aon Wellbeing Consultant Erica Stein and Alea Co-Founder Julien Mathieu revealed three potential disparities.
The first gap lies between resources and utilisation. From where C-Suite stands, support may seem robust enough but the actual take-up rates of traditional EAPs often prove otherwise. And, even with the leadership's buy-in, an effective wellbeing strategy is contingent on culture and communications.
"This type of support needs to be felt from day to day, not just at onboarding or on an annual Mental Health day. Employees may not know where to go if they need help, so consistent signposting and equipping managers with the right tools and conversation tactics are important," Erica said, adding that the lack of psychological safety also creates inconsistent feedback on the ground and to upper management.
"There may be hesitation to provide honest opinions. How're they really doing? What're their perceptions of the resources available?
4. Branding is half of it; culture is the other
Julien's sentiments are echoed by Microsoft's Senior HR Consulting Manager, Jan Philippe Tanchi. In recruiting and retaining talent, culture and policies are no less important than employer branding.
"Branding only gets you to the door—most companies have excellent branding already. Culture is the most critical factor in retaining new talent," Jan said. Microsoft, for example, has fostered a culture of a growth mindset. "That is the be-all and end-all of anyone in Microsoft. It allows you the comfort to make mistakes and bounce back. It also allows for new ideas and questions—one of the bigger priorities for the new population entering the working world."
But how does one glean insight into a company's culture? Gilberto Gaeta, Google's Global HR Operations Director, has a tip for job-seekers reading this:
"I generally suggest asking the same question on company values to different interviewers. You don't want the same answer but their answers should at least rhyme, so you truly understand that people there are genuine."
5. The power of co-creation with end users
Marketers run focus groups to learn what makes their target audience tick. Why should an employee wellbeing system be any different?
"Really determine what matters to employees and have them co-create wellbeing programs, as opposed to doing so in a vacuum," said Neil Narale, Partner and Health Leader at Mercer Singapore. During the circuit breaker in 2020, his company did exactly that by having employees brainstorm for alternative uses for their spending accounts. "It was very powerful. Employees felt: Wow, we have a say. How do we want to better utilise our benefits for our own individual purposes?" As employees return to the office, they're also deeply involved in redesigning their work environment.
Likewise, employees at The Secret Little Agency also inspired their General Manager, Lin, to implement initiatives like "sacred lunch times"—undisturbed breaks marked on their calendars—during the lockdown. More recently, they launched a $1,000 stipend for travel-starved employees to book their trips.
"Don't just think about the launch of it. Considering the long-term perspective, implementation, and engagement along the way is super critical to the success of something like that."
6. Recognise employees and empower managers
On Talking About Mental Health: The Leadership Edition, Managing Director of McDonald's Singapore Benjamin Boh shared the company's RICO framework, which stands for Recognising Individuals Consistently and Openly.
"An operations person can go to the restaurant and say, "that's not done right". It's not so intuitive to say "this is done really well" but once you start recognising (them), you make people feel that they can do something good," said Benjamin. "It didn't start and happen from day one. It really took a mindset shift."
Positive leadership can make a world of difference, but how a company selects its people managers also matters. "One thing I've learned the hard way is that being a people manager is hard and not for everyone," said CEO and Co-Founder of Carousell Group Quek Siu Rui. "Even for those who want to grow into people managers, you need to set them up for success and support them." At the height of the pandemic, Carousell created a COVID Leadership Call for General Managers of different regions to support one another.
"Leadership is a lonely journey, and they shouldn't go it alone."