This article is co-authored with Sharon Yiu, Senior Solutions Innovation Manager of L&H Partnerships & Proposition Innovation, from Swiss Re., one of the world's leading providers of reinsurance, insurance and other forms of insurance-based risk transfer, in anticipation of Intellect's Mental Health Festival Asia 2022. Lauren Liang, the company's Global Head of L&H Partnerships & Propositions Innovation, will be on our panel titled Corporate Insurance: Are Companies Switching to a Proactive Approach in 2022 on Day 1 (29 Sep). Sign up now!
Mental health insurance in Singapore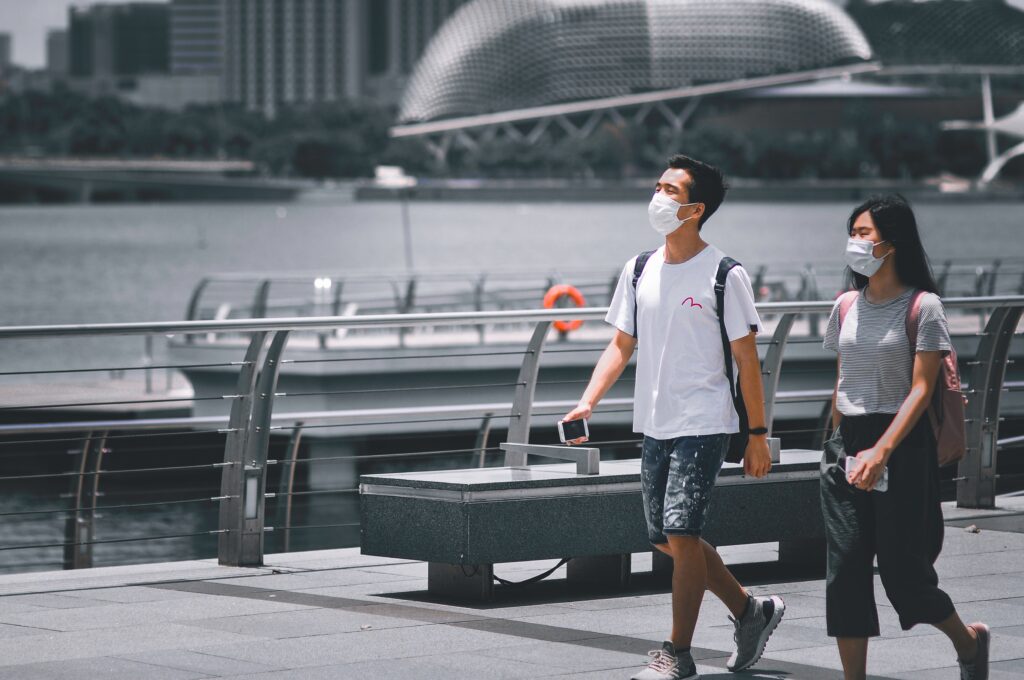 COVID-19 has shone the spotlight on mental wellbeing and piqued society's interest in the various avenues for support. Between 2020 and 2022, the Swiss Re Institute conducted multiple surveys in Asia to understand people's perceptions of mental health, and the associated insurance coverage in key markets such as Singapore, Hong Kong, Japan, Korea, Thailand, and China.
On the little red dot, it was found that adults in Singapore generally see mental health as one of the most important tenets of their personal wellbeing. Mental wellness positively correlates to satisfaction in their broader personal lives, and two in three parents consider it crucial to their children's development. It comes as no surprise that, against this backdrop, more than 84% of consumers have an open attitude towards private mental health insurance.1
What sort of coverage are consumers looking for? For starters, major depressive disorder (MDD), anxiety disorder, and bipolar disorder are among prevalent or severe conditions at the top of consumers' minds. For parents, coverage for developmental conditions among children, such as attention-deficit hyperactivity disorder (ADHD) and autism spectrum disorder (ASD), is a main concern.
Compared to the rest of Southeast Asia, Singapore is one of the more developed markets in the conversation of mental health insurance offerings. Here, mental health coverage is usually bundled with critical illness plans, providing a small lump sum benefit upon diagnosis of specific mental health conditions. In fact, a handful of insurers have made psychiatric consultation reimbursable.
Barriers in mental health insurance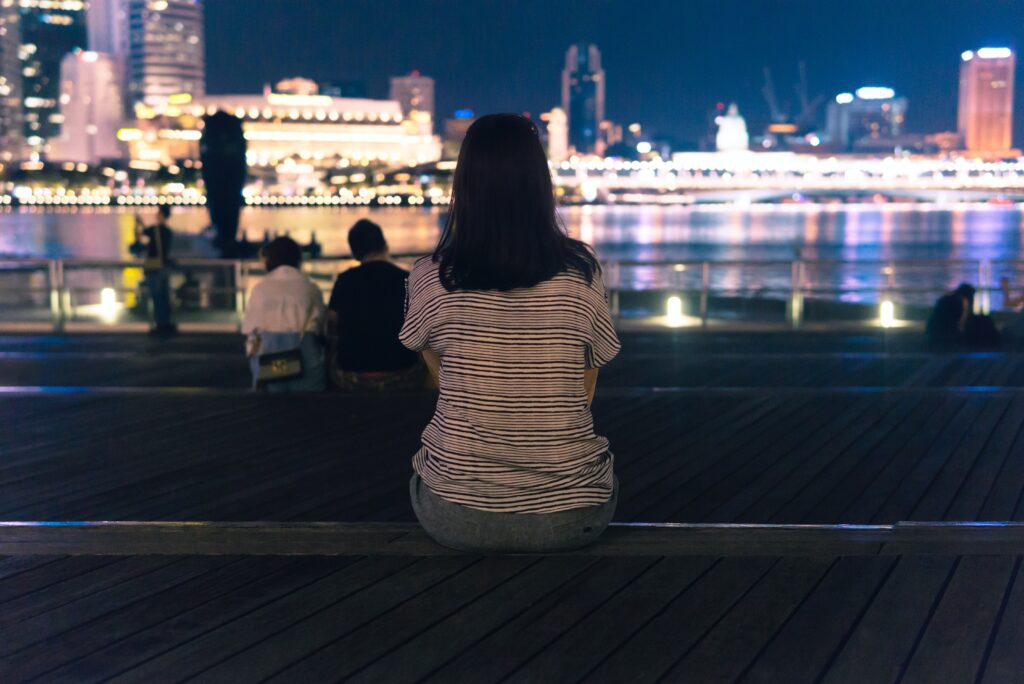 Still, the high costs of mental healthcare in Singapore is widely lamented. Why isn't awareness translating to accessibility? Well, this is where the complexities of mental health insurance surface. Compared to critical illness conditions, it comes with higher risks and uncertainties. Insurers grapple with a lack of data and experience, and it's a challenge to achieve objectivity in severity assessment and comorbidities also add to the complexities. Furthermore, because attitudes towards mental wellbeing vary across cultures, regions aren't warming up at the same pace.
These roadblocks spell underlying risk to insurers, which explains why progress is being made slowly but surely. Three years ago, you would be hard pressed to find more than a couple of insurers that provide mental health coverage. We've come a long way since, with mental benefit add on and tailored policies emerging in the market. These developments are not to be understated, but what's on the horizon for insurers?
The way forward for mental health insurance
The importance of holistic insurance that covers both physical and mental wellbeing is plain for all to see, and the industry recognises that. In fact, there's a rising demand for accessible services such as digital platforms, counseling services, and psychiatric referrals for individuals who wrestle with severe conditions. As conversations about mental health become normalised, we're also seeing a greater interest from parents in coverage for juvenile developmental conditions.
In recent years, insurers have started to offer reimbursements and cashless protection for mild conditions; and comprehensive coverage for severe ones. Underpinning this trend is the mantra that prevention is better than cure. By accessing care in the earlier stages, individuals have a better chance of managing their conditions before they escalate. Before, mental health coverage was bundled only with individual critical illness plans. Today, it can go hand in hand with medical, mortality, and group insurance types, to name a few.
Even though 84% of consumers are open to private mental health insurance, only 1% of insurers in Asia sees it as a key priority.2 Bridging the gap in mental health protection isn't the work of a single stakeholder but the entire ecosystem, and that includes companies. Whereas most already turn to insurance to address physical health risks among employees, the same cannot be said for mental health.
That said, what are some trends companies should look out for? Also, how can they mitigate business risks arising from mental health more proactively? We sat down with Lauren Liang, Swiss Re's Global Head of Partnerships & Proposition Innovation; and Ben Toh, Group Head of Bancassurance at United Overseas Bank Limited, in a panel moderated by Intellect CEO Theodoric Chew.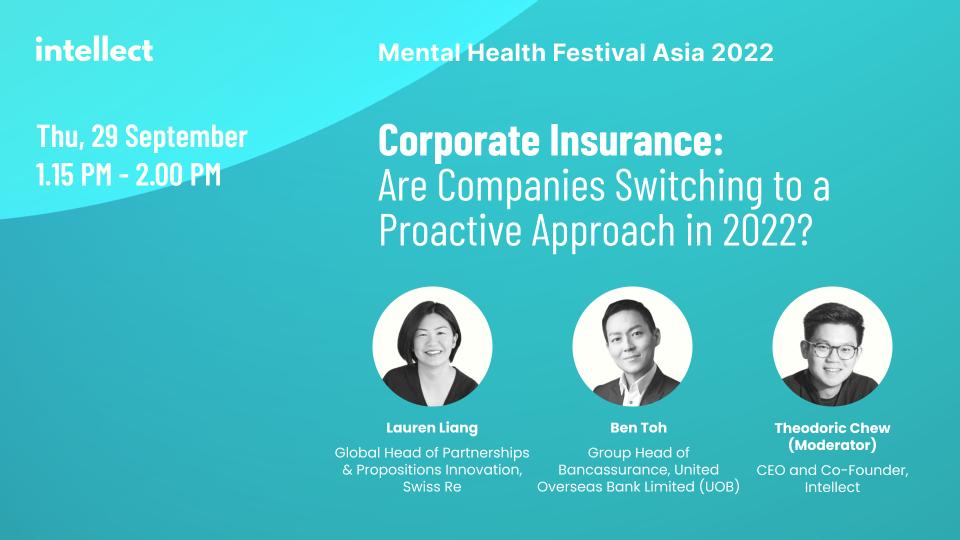 Footnote 1 : Mental health in Singapore: insurance can help bridge the protection gap | Swiss Re
Footnote 2: Mercer Marsh Benefits report highlights gap in mental health coverage and outpaced healthcare costs vs inflation in Asia