It's been a long time coming, but the national mental health strategy announced by the Singaporean government on October 5, 2023, comes as a beacon of hope as the little red dot finds itself in a mental health crisis.
In case you missed it, the new care model comprises four tiers of mental health services that correspond to the severity of an individual's needs, made available in health, social, and education settings.
The announcement is particularly reaffirming for Intellect, which had been operating on a tiered model of care for three years before the jargons of the national mental health strategy entered public consciousness.
Intellect has always prided itself on seeing mental healthcare as a continuum rather than a binary concept – a philosophy that informs every single offering of ours. Are you thriving, surviving, struggling, or in a crisis? Depending on your answer, we may refer you to an ICF-accredited behavioural health coach, a licensed counsellor, psychotherapist, clinical psychologist, or a psychiatrist within our network.
With one of the most rigorous clinical functions among digital health platforms in the market, Intellect's providers are thoroughly screened and trained, placing them on the same page as the National Mental Health Competency Training Framework.
Tier 1: Mental Wellbeing Promotion
Intellect's reinforcement of national mental health strategy had long begun, starting with Tier 1, which involves promoting mental wellbeing for individuals who are already coping well with minimal or no mental health symptoms.
1.1. Workplace mental wellbeing support
Employee wellbeing is, quite literally, Intellect's business. Named Best Corporate Wellness Provider by HR Online's panel of judges, Intellect is trusted by leading organisations including the National University of Singapore, Singapore Press Holdings, and Singtel.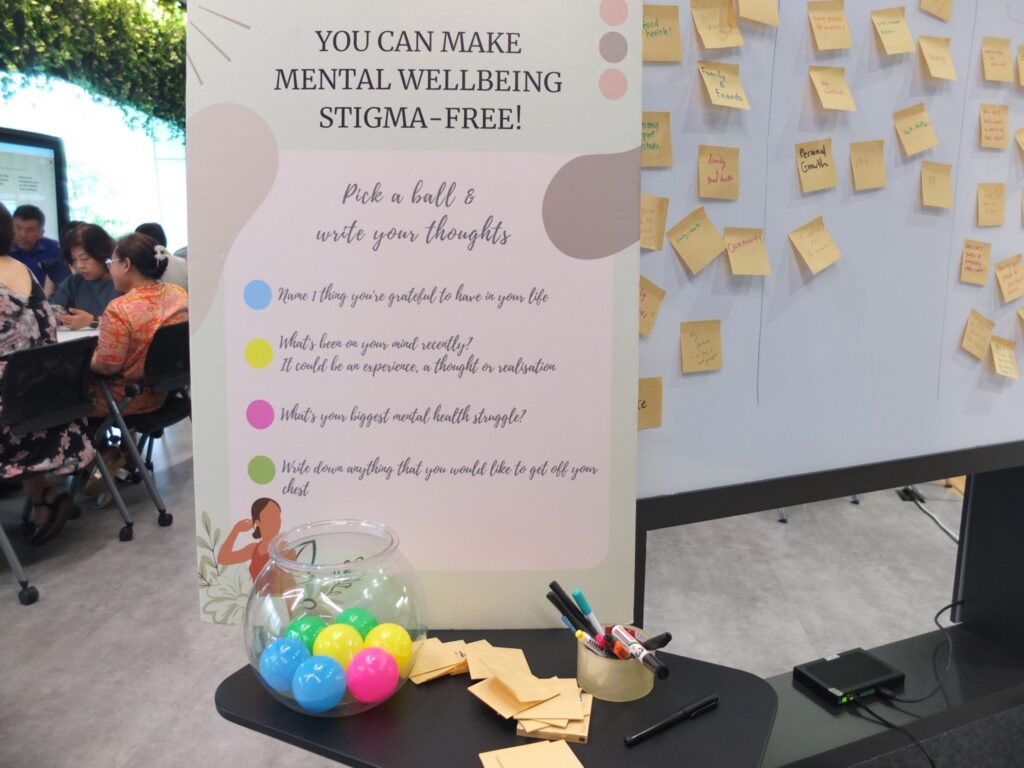 The result? Dramatic increases in utilisation rates since adopting Intellect. This comes as no surprise, considering that the platform's efficacy is scientifically validated, predicting next-day improvements in psychological resilience among employees in Singapore and Hong Kong.

Crucially, Intellect also helps HR professionals justify investments in employee wellbeing. Led by Dr Oliver Sundermann, Intellect's VP of Clinical, Intellect's research team has proven an ROI of up to 14x in just 6 weeks.
This year, Intellect also became the sole licensed provider of Mental Health First Aid™ (MHFA) in Singapore. This course, endorsed by former U.S. First Lady Michelle Obama, is the only internationally accredited program of its kind. With years of research backing, MHFA has trained over five million people in 24 countries since 2000.
How does MHFA stand out from other psychological first aid courses, you ask? For one, it is customised to be attuned to local and regional cultural nuances. Most importantly, it focuses not merely on theoretical knowledge but also on practical application. Through interactive sessions and simulated scenarios, certified Mental Health First Aiders will be confident of making a difference the moment they graduate.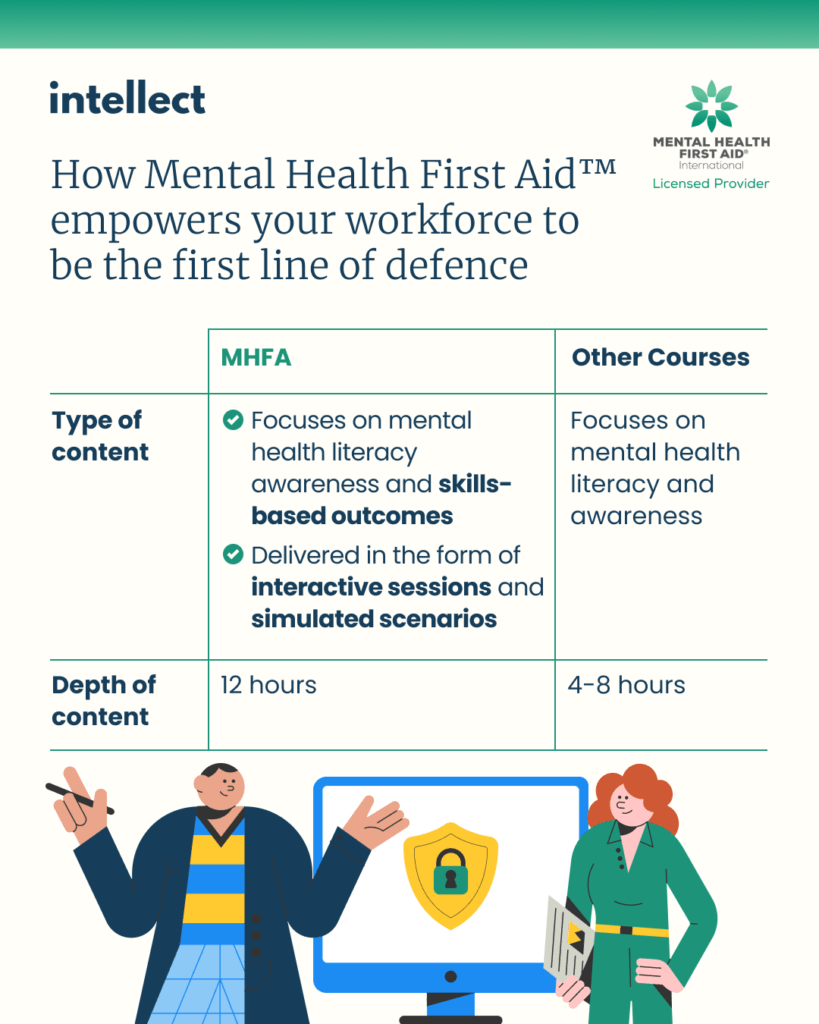 1.2 Parenting, peer, and community support
Mental Health First Aid™ can empower managers and wellbeing ambassadors within an organisation, but it isn't exclusive to our corporate clients. Intellect is delighted to introduce community offering for audiences such as educators and social workers, allowing the curriculum to be customised for relevance. This goes a long way in enhancing the capabilities of our service providers, which is one of the three key focus areas outlined in Singapore's national mental health strategy.
1.3 Public education and self-help
In September 2023, Intellect held Mental Health Festival 2023, our third and most significant edition to date. Intellect was founded with the mission of making mental healthcare exceptionally accessible in Asia, and this non-ticketed event stands as a testament to that commitment.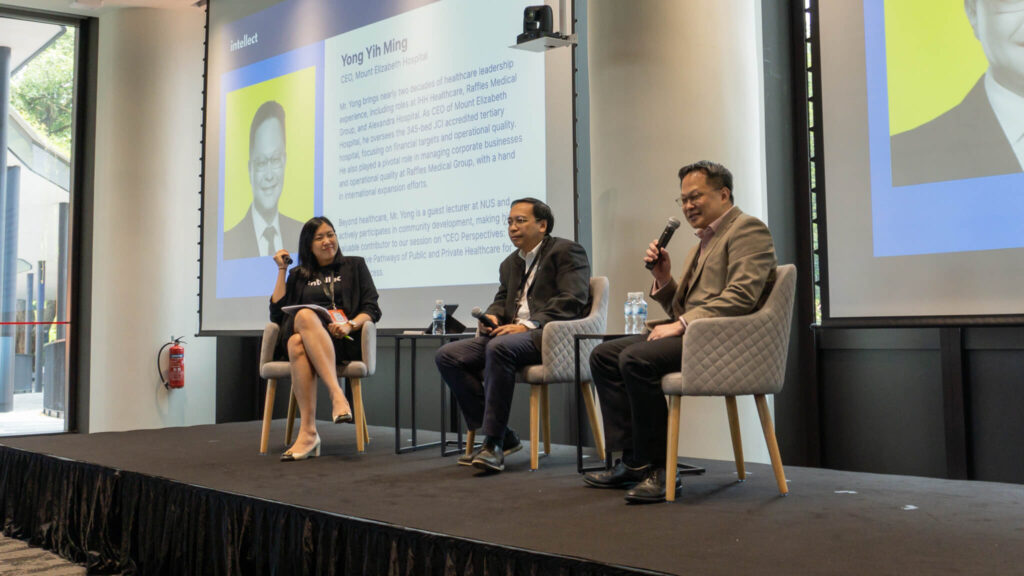 Among our highlights is a preview of MHFA and a panel on youth mental health featuring speakers from the National University of Singapore (NUS) and the Ministry of Health (MOH). Caregiving organisations such as the Agency of Integrated Care (AIC) and Caregivers Alliance Limited (CAL) also shared a wealth of tools, resources, and support that are often overlooked in the community.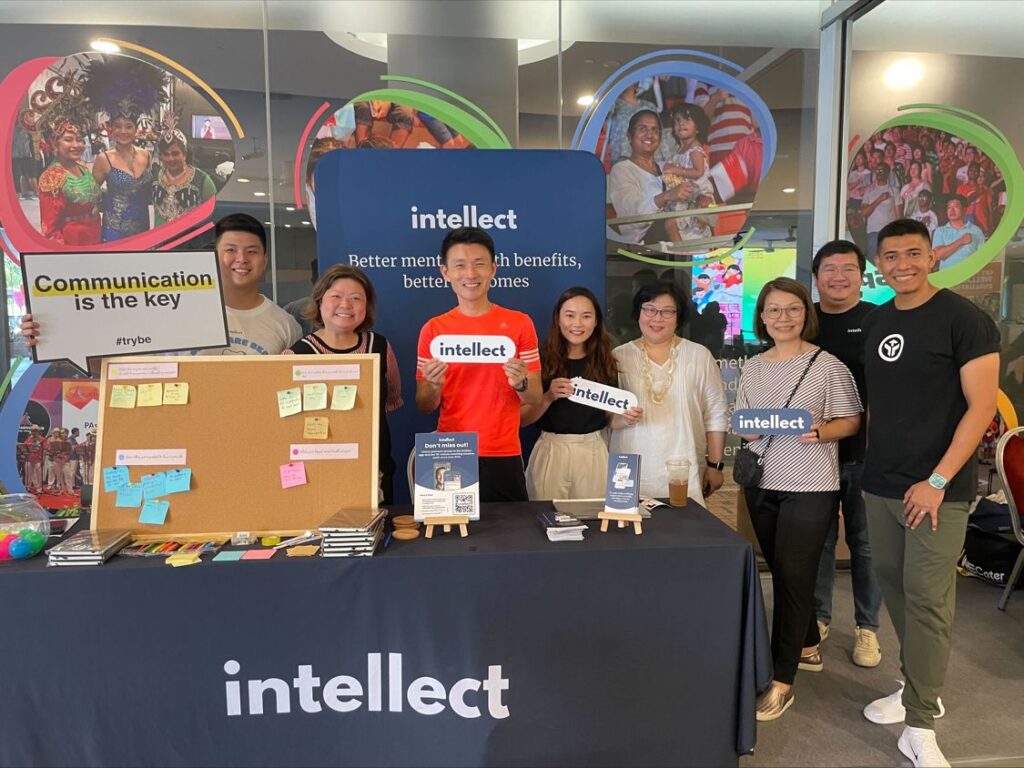 Tier 2: Low-intensity services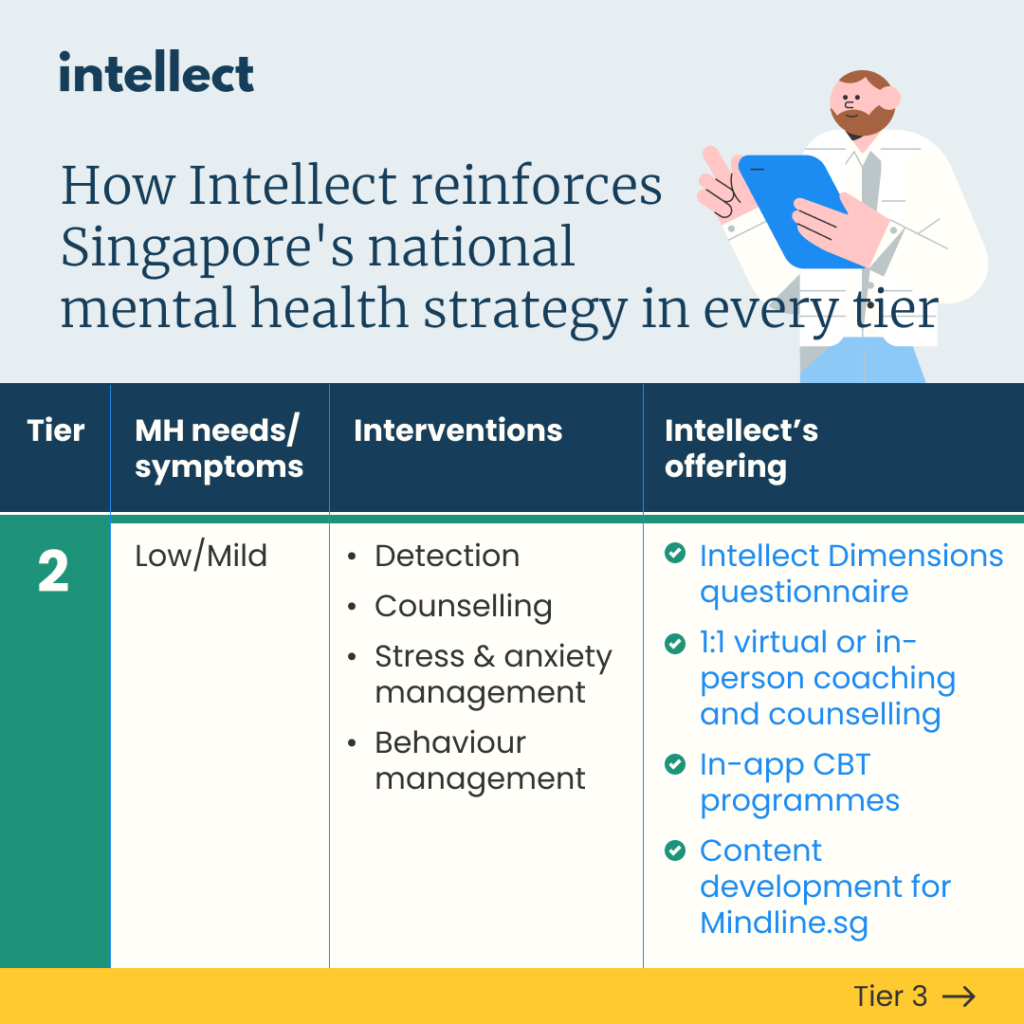 2.1 Counselling 
Tier 2 of the national mental health strategy corresponds to the "surviving" part of Intellect's continuum, where users are recommended counselling. But how can a layperson distinguish between coaching, counselling, psychotherapy, and psychiatry?
To provide clarity, we've created a nifty guide that came to life at Mental Health Festival 2023. In a session titled "A Coach, a Counselor, and a Therapist," each professional is presented with a hypothetical clinical vignette, taking turns to explain how their approaches may differ.
2.2 Stress and anxiety management, social skills training, behavioural management
Access to mental healthcare professionals is irrelevant where stigma exists. As people in Singapore are still warming up to help-seeking behaviours, Intellect's app has proven to be a valuable resource.
Intellect is one of the few mental health platforms that offers a comprehensive suite of evidence-based interventions. Built on a foundation of Cognitive Behavioral Therapy (CBT), these self-guided features are designed to assist users in recognising and modifying unhealthy thought and behaviour patterns.
These interventions have found great success among NUS students. Notably, 44.8% of students who completed the "Anxiety and Worry" learning path experienced a significant reduction in their anxiety levels, with the average user seeing a 37.4% reduction in just two weeks.
Additionally, 61.5% of these students reported a significant reduction in their depressive symptoms, with the average user experiencing a 40% reduction within the same two-week period. So effective were these self-guided interventions that Intellect was commissioned by the Ministry of Healthcare Transformation (MOHT) to curate a library of content for Mindline.sg, a platform targeted at youth mental health.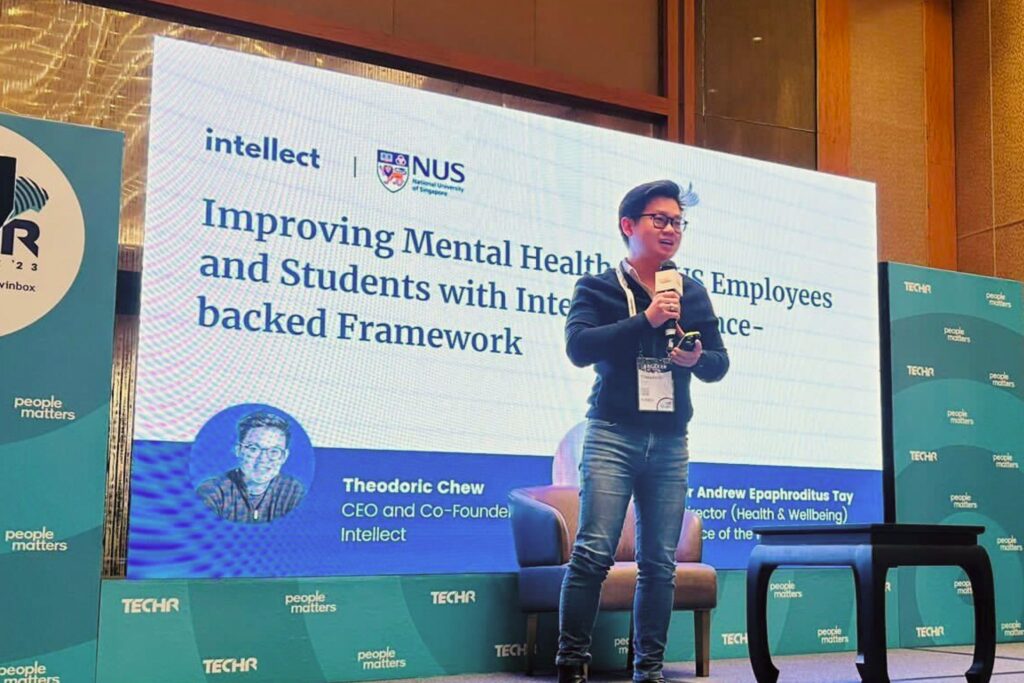 When it comes to working adults in Singapore and Hong Kong, Intellect's app reduced stress levels by 10% by the ninth day of usage. Similar improvements can be achieved nearly five times faster, according to active users in Singapore who engaged with the app for 14 consecutive weeks. Substantial upticks in other aspects of wellbeing, such as sleep health, were also observed.
Tier 3: Moderate-intensity services
3.1 Mental health assessments and psychotherapy
Now, what happens when counselling and psychoeducation fall short? Based on Intellect's modus operandi, this is when users are directed to psychotherapists and clinical psychologists.
Depending on their psychotherapeutic approaches, treatment can transcend conversation, involving worksheets, exercises, and experiments. These sessions can take place virtually on our mobile or desktop applications, or in-person at our Intellect clinics at Tanjong Pagar and Parkway MediCentre at Woodleigh Mall.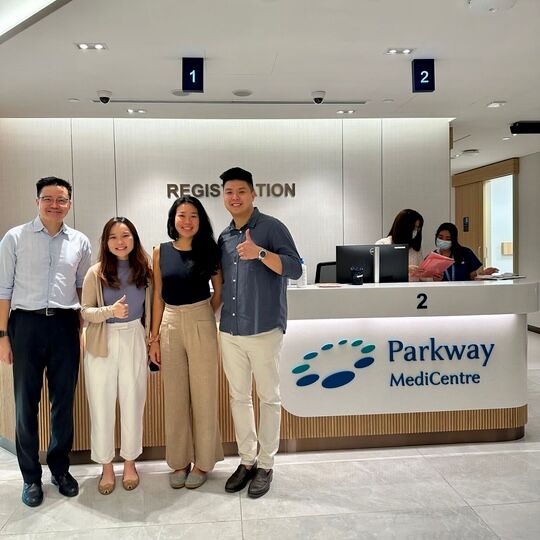 3.2 Medical treatment
Intellect's clinical psychologists are not only trained to conduct psychological assessments, but they are also experienced in referring patients to psychiatrists for medical treatment, psychiatric assessment, and diagnosis when necessary.
The establishment of these in-person clinics signifies the commencement of Intellect's expanding presence in primary care settings. Going forward, Intellect will also collaborate with partnering General Practitioners to ensure that holistic wellbeing is addressed through active screening and synergy among our mental healthcare professionals.
Tier 4: High-intensity services
4.1 Psychiatric assessments and diagnosis
In his commentary on Channel News Asia, psychiatrist Dr. Jared Lee astutely pointed out that the rise of mental health literacy and digital mental health platforms poses a risk of self-diagnosis among young adults, and that's where Intellect's continuum of care comes into play.
Traditionally, both clinical psychologists and psychiatrists may diagnose a patient. At Intellect, this authority is exclusive to the latter, preventing over- and under-medicalisation and further fragmentation of Singapore's mental healthcare system. Following a psychiatric diagnosis, the medical treatment offered in tier 3 may be complemented by specialised and longer-term psychological interventions, such as psychodynamic psychotherapy.
4.2 Emergency services
Singapore's national mental health strategy was launched as the country recorded its highest number of suicides in two decades last year. Suicide prevention efforts are understaffed, prompting social service agencies to call for volunteers.
Meanwhile, Intellect has already instituted a 24/7 helpline manned by trained responders who are experienced in providing real-time support and de-escalating critical situations. Can you imagine putting a distressed caller on the ledge through a mechanical and cumbersome process of triaging? Neither can we. With our 24/7 helpline, care is shown the moment their call gets through. That it is available in 13 languages also casts a wide safety net for the diverse population in Singapore, ensuring that no one falls through the gaps.

The 24/7 helpline, along with Intellect's self-care app, is also built to support individuals in recovery. Returning to a normal routine after receiving the moderate- to high-intensity services above can feel like being thrown into the waters to sink or swim. This is where the aforementioned resources serve as a life buoy, supporting them until and even after they return to shore.
Advancing Singapore's national mental health strategy
Intellect's commitment to reinforcing Singapore's national mental health strategy reaches well beyond the confines of the workplace. It drives broader transformation within the community, encompassing new parents, young individuals and their educators, as well as individuals living with dementia and their dedicated caregivers.

We look forward to working hand in hand with the government and our valued partners to ensure that each person receives the appropriate care and support.