At times, navigating life's challenges while managing our emotions and striving for growth can feel like an uphill battle.
Here at Intellect, Mental Health Coaching can help you learn to manage both professional and personal challenges, and give you the support you need to level up in both your career and relationships.
What is coaching?
Coaching provides an independent and confidential space for you to explore opportunities and form an action plan for improvement.
With a few simple steps, you'll be matched with one of our professional coaches based on your needs, concerns and preferences for a personalized experience at your fingertips.
Is coaching for me?
Coaching is for anyone and everyone.
Whether you are looking to better manage stress or emotions, upgrade your career or simply get support from someone as you navigate life, a personalized coaching experience can bring you one step closer to achieving your goals and improving your wellbeing.
Become more in-tune with your well-being
If you are looking to gain clarity and self-awareness, coaching provides a safe space to explore your thoughts, feelings, values, and behaviour and can help you gain a deeper understanding of your problems.
Through a recent survey of our coaching clients, 65% of respondents were shown to have paid more attention to their well-being than before.
Confidently manage stress
Want to effectively manage stress and regulate your emotions?
Our coaches are trained to support you and work with you to co-create an action plan to reach your goals. In fact, 62% of our coaching clients reported that they are now able to better manage stress at work.
Learn new skills to cope with personal challenges
Apart from professional challenges, our coaches are also here to support you with optimising your relationships and dealing with personal problems.
65% of our coaching clients found that they had learnt new skills to build resilience and handle personal challenges.
---
How do I get started?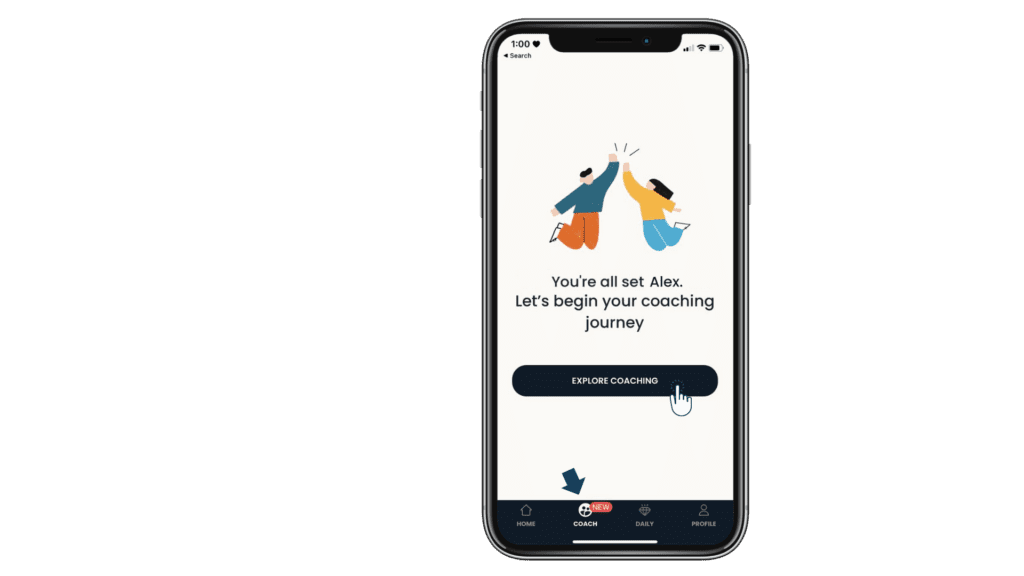 [non-corporate users]
1. Launch the Intellect app and sign in. Click on the "Coach" tab at the bottom of the screen and select "Explore Coaching" to get started.
2. Upon reaching the landing page, click "Get started today" to view our available plans.
Select the plan that best suits your needs!
[corporate users]
1. Launch the intellect app and sign in with your relevant organization details
2. Select the "Coach" tab at the bottom of the screen and click on "Explore Intellect" to get started.
[all users]
3. Click "Begin" to get started on your coaching journey. You'll learn a bit more about what coaching is, and how it works here at Intellect!
4. Select "Find my coach" and select the areas you would like to work on, along with the languages you would like your coach to speak in.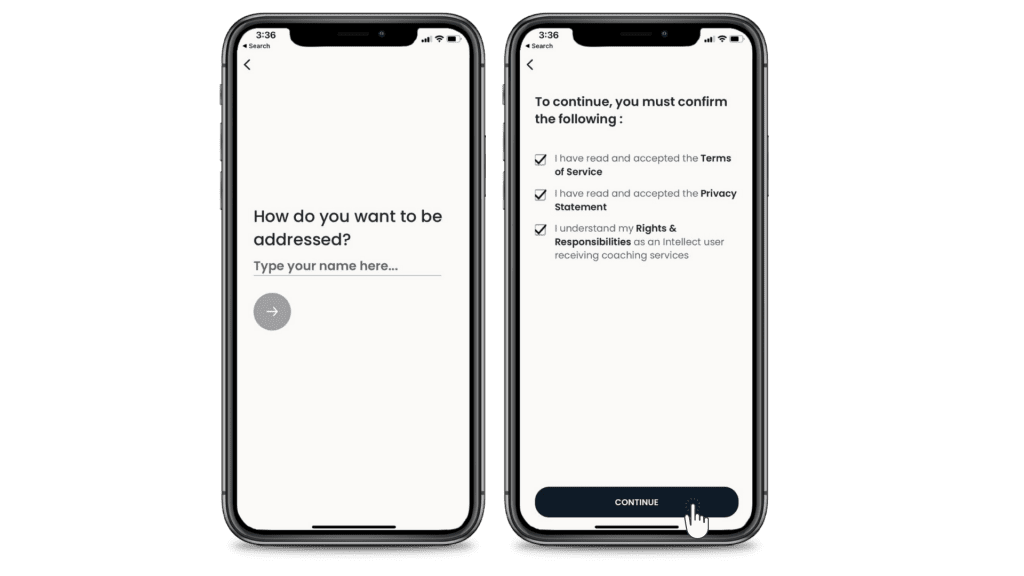 5. Fill in the relevant details, read and accept the terms and conditions
6. You're all set!
If you need to, you may un-match with your coach from the chat function or post-session review page.
---
What should I expect?
Before your first session, find a private and comfortable space with a stable internet connection.
You do not need to prepare or plan anything—your coach will guide and journey with you through the session.
Feel free to provide feedback to the coach on how the session is going for you and treat it as you would a face-to-face session!
Afterwards, take your time to relax and process the session.
If you've found it helpful, you are encouraged to schedule a follow-up session with your coach.
93% of our users reported a significant reduction in their anxiety levels, with 76% experiencing an increased ability to cope with challenges after engaging in regular coaching sessions.
Meet some of our amazing coaches!
Your journey to self-improvement awaits
Ready to give coaching a try?
Download our iOS or Android app and get access to Intellect's coaching sessions.
Here, you can comfortably share, discuss and collaborate with experienced coaches to explore opportunities and work towards self-improvement in a secure environment.
---
FAQs
How do I solve general technical issues?
Please make sure that you're on the latest version of the Intellect app. If you have the latest version but still encounter technical difficulties, for example:
unable to enter coaching sessions
certain pages/tabs not loading
Please try the following troubleshooting methods:
Shutting down the Intellect app through your phone's App Management Tool
Re-logging into your Intellect account
Am I able to re-schedule my sessions?
If you need to reschedule your session, inform your Coach at least 24-hours in advance through the Intellect app. Note that if you cancel late or don't show up for an appointment, it will still be deducted from your credit pool as covered in the cancellation policy.
What if I'm having trouble accessing my account?
Please raise a "Forgot Password" request on the login screen and check the registered email address for the steps to change your password. Do check your junk/ spam inboxes as well if you are not able to receive the email with instructions.

Is Intellect available in multiple languages?
At the moment, our app is available in 15+ languages, and we are focusing on localising for the APAC region- do keep a lookout for more languages soon!
If the suggested methods do not solve the issue faced, please do reach out to support@intellect.co for further help!